ILION POLISHER - GATAN

Microscope Team
Bérangère Lesaint (MATEIS), Thierry Douillard (MATEIS), Solène Brottet (INL)
Device overview
The ILION is an ion polisher from GATAN with low focalised Argon ions. It is used for SEM preparations (imaging and EBSD) of every type of materials (steel, polymer, ceramic). This model is equipped with a cryogenic plate allowing to cool down fragiles samples such as polymers, papers, ... down to -120°C.
Principle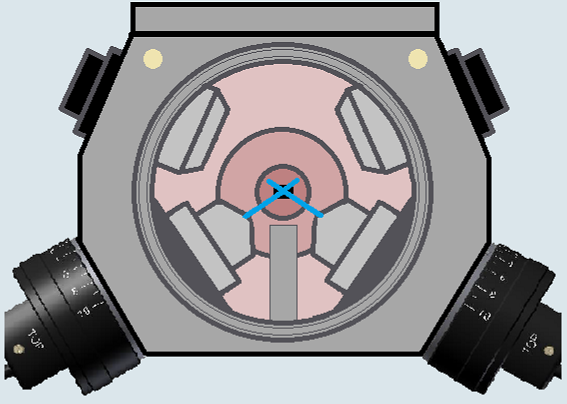 Two guns send argon ions beams to the sample surface to create a correct polishing area for SEM imaging or EBSD.
A few parameters can be varied in order to achieve a perfect polishing : voltage, RPM, guns angles (only for planar milling), temperature and abrasion time.
Samples polishing
There's two ways to polishe the samples :
| | |
| --- | --- |
| | |
| Using Titanium masks with lifetime of 8h at 8KeV. The sample is glued using silver paint. The polished area depth is about 500µm and the with is up to 1800µm (depending on the sample type). | Using a special holder, the sample is glued to it with silver paint. This type of preparation is for EBSD. the surface must be preliminary polished with OPS 0.03µm. |
Photo library
| | | | | |
| --- | --- | --- | --- | --- |
| | | | | |
| Photo 1 : Céramique | Photo 2 : Batterie Lithium | Photo 3 : CrAlYN | Photo 4 : XTM | Photo 5 : Cobalt |